---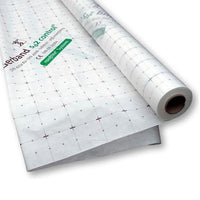 Gerband Airtight Membrane
2 x rolls of Gerband Airtight Membrane
Roll Size: 1.5metre x 50metre
The airtight membrane should be applied perpendicular to the direction of the application surface i.e. studs, rafters and joists.

The membrane should be fixed with staples every 150mm or double-sided tape.

Gerband 586 or a suitable grommet should be used for penetrations.

For bonding barrier overlaps, penetrations and repair spots, Gerband 586 or a similar tape is recommended

For connections to concrete or masonry Gerband FORTAX 6400 is recommended.

Ensure there is a 100mm overlap of the membranes and tape with Gerband 586 or another suitable tape.


Ensure the corner overlaps are completely sealed.