---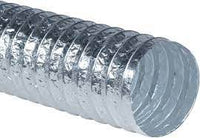 82mm flexible duct.
Length 10 metre
Our 82mm flexible duct is a fully flexible, light laminate duct with a steel spiral inserted between the different layers of the duct. This flexible duct consists of 3 Aluminium layers of 15 micron combined with 1 Polyester-layer of 6 micron.
Specification
Temperature range: From - 30 °C till + 250 °C 
Air velocity (max): 30 m/s 
Operating pressure: -188 up to + 2500 Pa
Centerline bend radius: 1 X diameter minimum 
Diameter range: 82 mm - 610 mm 
Fire resistance: Class A2 - s1, d0 according to EN 13501-1
As the product does not contain PVC no toxic vapours are released should fire occur.
Produced according EN 13180: Dia Class B, Thightness Class C, Sag<4°, Crushing strength 13-35kg compressed; 2.5kg uncompressed.