---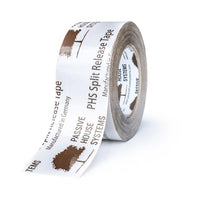 PHS 60mm (45/15 split Release) Window Airtight tape
PHS 45/15 Split Release Tape (600mm wide) is a pliable stretchable PE-film sealing tape. 
Roll Size: 60mm x 25 metre
PHS 45/15 split Release Tape is used indoors for the bonding and sealing of the floor to wall junction. It is moisture-resistant polyacrylate adhesive of extremely high tack and permanent adhesion as well as outstanding ageing resistance.